Manjot's Baking
Regular price
Sale price
$13.99 AUD
Unit price
per
Sale
Sold out
Using the INSANELY caramelised Gelato Messina white chocolate, we bring you this BRILLIANT blondie! We have given your favourite blondies the MESSINA makeover, featuring their BRAND NEW caramelised white chocolate!
With a DELICIOUSLY caramelised golden hue throughout the blondies, the CRUNCH of white chocolate pieces and the CHEW of caramelised white chocolate fudge squares, these blondies are good enough to write home about!
Average package dimensions
One pack of 2 bars is 11cm x 5cm x 4cm
Allergen advice: Contains dairy, wheat and eggs. May contain traces of nuts.
National express post: Please allow 1-2 days for processing/production of your order plus shipping. Orders are shipped express via Australia Post (normally arrive within 1-3 business days). 
Melbourne delivery: Contactless delivery can be completed within 50km of Taylors Hill (to most postcodes. Please check at billing if this is available for you).
Share
View full details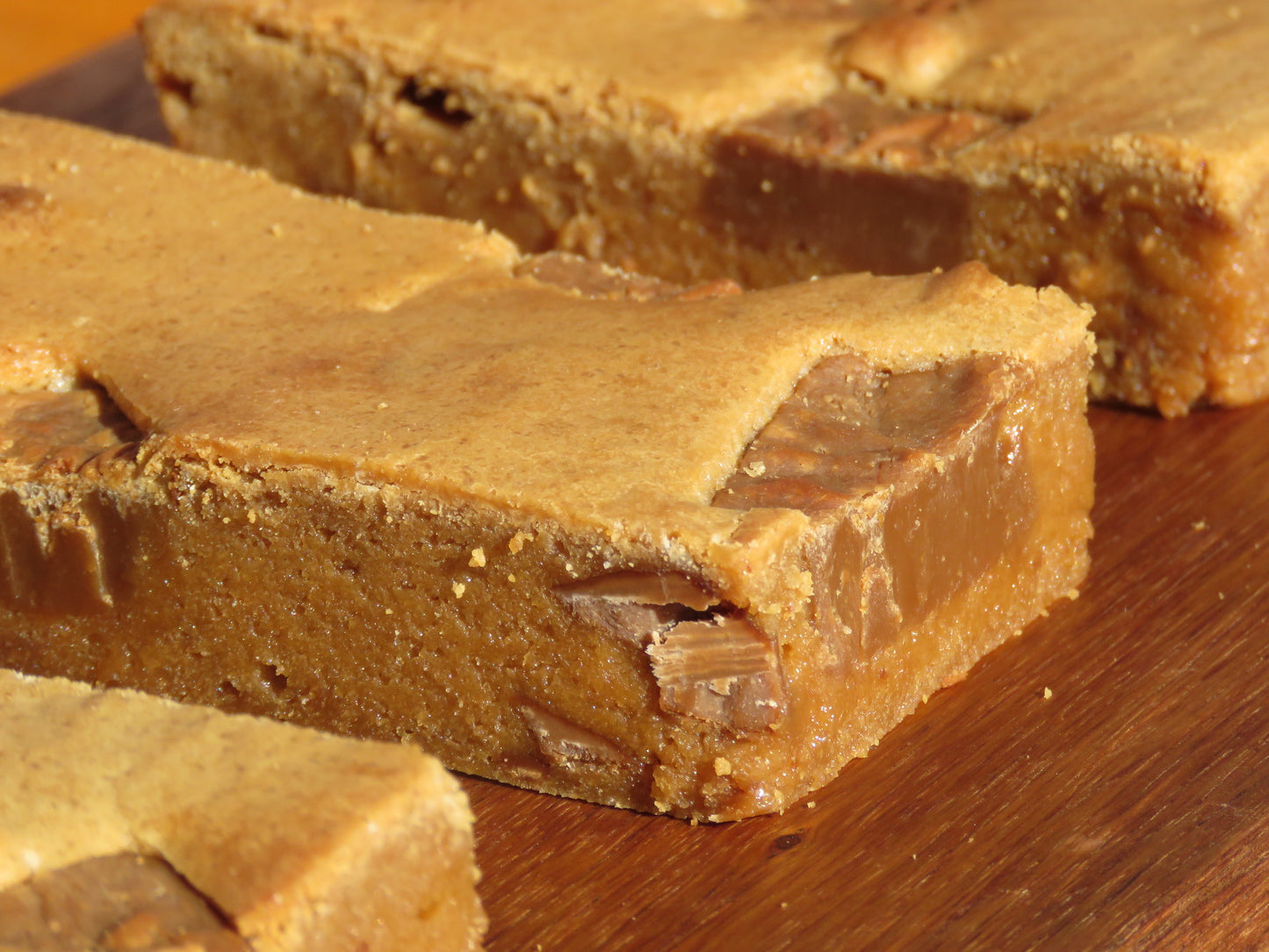 INCREDIBLE
For real though, these are some of the best blondies I've ever eaten. SO DAMN GOOD!
Mind blowing goodness 🌬
I can't get enough honestly rather are delicious and a generous serve :) wished the limited editions were permanently on the menu.
Best blondie I've ever had
5 star blondie! Soft, fudgy and delicious. Manjot's products don't fail to please
Probably the Best Blondie Around
This is a must try! Quite unlike most other blondies, get it when you can!
Caramilk on steroids - You won't find this flavour anywhere else!
Caramilk has peaked in the last 12 months and now that the initial excitement has died down, it's become a (beloved) staple in many households. Manjot is living in the year 3008 and bringing us the NEXT EVOLUTION. How can I describe Robert Blondie Jr? Let me put it this way: this is the kind of brownie that James Bond would probably eat. It's the kind of brownie that probably would get invented on an episode of MasterChef and sell out the next day after the episode aired. This. Brownie. Is. Legit.
Once again, we are not just talking about your basic blonde recipe - this is ELEVATED. The main ingredient is the GOURMET, EXCLUSIVE Messina caramelised white chocolate. It's caramelised for so long that it's almost as dark as milk chocolate. What does that mean? It's PACKED with flavour. It's not overly sweet each bite has so much depth: you're getting the rich caramel notes, it's malty, there's vanilla, there's white chocolate, it's almost earthy and nutty (not quite as nutty as this review). The texture is perfect: crispy outside and decadent chewy and fudgy center. It's an out of body experience, quite frankly, for anyone that has a sweet tooth and appreciates the finer things in life without breaking the bank. I could easily see something like this being available at a high end cafe/restaurant for double the price and half the quality. You're getting something pretty damn elite for a bargain with these limited specials. Jump on it while you can - you won't regret it! You deserve it!