Manjot's Baking
Regular price
Sale price
$13.99 AUD
Unit price
per
Sale
Sold out
Our third instalment of the Gelato Messina x Manjot's Baking collab is for ALL you FUDGY brownie lovers out there! Not only have we given your FAVOURITE brownies the Messina treatment by mixing in CHUNKS of their brand new Milk chocolate, but we have gone ABOVE AND BEYOND and created a Messina milk chocolate peanut butter fudge EXCLUSIVELY for these brownies! 

Take a bite and experience the peanut butter FUDGE squares balanced perfectly with a scattering of Messina Milk Chocolate, ROASTED peanuts and a delicate swirl of smooth peanut butter on top! This is love.
Average package dimensions
One pack of 2 bars is 11cm x 5cm x 4cm
Allergen advice: Contains dairy, wheat and eggs. May contain traces of nuts.
National express post: Please allow 1-2 days for processing/production of your order plus shipping. Orders are shipped express via Australia Post (normally arrive within 1-3 business days). 
Melbourne delivery: Contactless delivery can be completed within 50km of Taylors Hill (to most postcodes. Please check at billing if this is available for you).
Share
View full details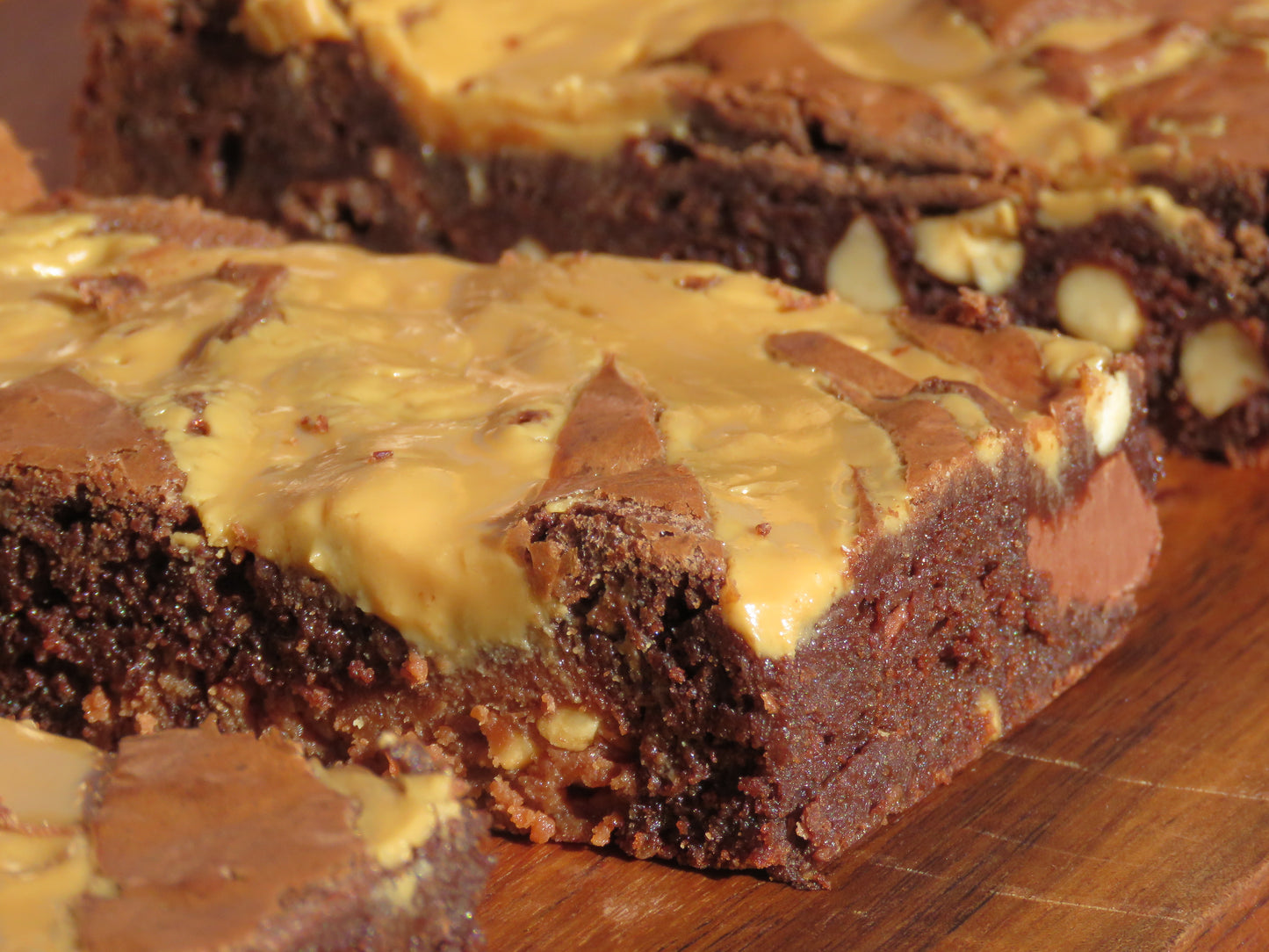 True romance- my husband is jealous
True romance is all my favourite things. Chocolate, peanuts, peanut butter… oh my goodness I'm in love. If you could figure out how to get these brownies to make me coffee to go with them….
Tasted amazing, a great combination. Loved the chunks of Messina chocolate in them. One of my favourites!!
Obsessed
I LOVE peanut butter chocolate products and for me, this is one of the best I've ever had. I have ordered various products from Manjots multiple times and have never been disappointed. These were a highlight for me.
One of my favorites!
Perfect salty sweet brownie! My favorite ever - which is a surprise because I am not a huge fan of choc peanut butter normally
Addictive brownies
I've ordered some Manjot a few times and have been following him on social media. What keeps me engaged is the level of effort and creativity he puts into his products and the new and exciting stuff he comes up with. Had he just stuck with his "basic" menu, he'd have a great business because they're amazing brownies, but the limited menus and the specials are what takes him to the next level.
Trying out all of the Messina collabs from last week, the True Romance Peanut butter fudge brownie was definitely a personal highlight for me. The level of detail was kind of mind blowing, down to the chunks of Messina fudge! When Manjot collaborates with these guys there's always going to be levels and levels of details and flavours. It had everything you would want from a brownie in terms of fudgy texture, deep rich flavour and crispy outside PLUS the addition of some high end special ingredients from Messina. I like to make desserts myself and this is pretty much the perfect home made brownie with a high level professional execution - they look visually amazing but still have that fantastic home made quality of flavour. You can go to a cafe and buy something that looks amazing but tastes flat and characterless. Manjot's are the best of both worlds.
I'll definitely be buying whatever this genius comes up with next. Better yet, I'll be waiting on whatever collabs he has coming in the future!